3D Curve Surface Dynamic Focusing Fiber laser marking machine metal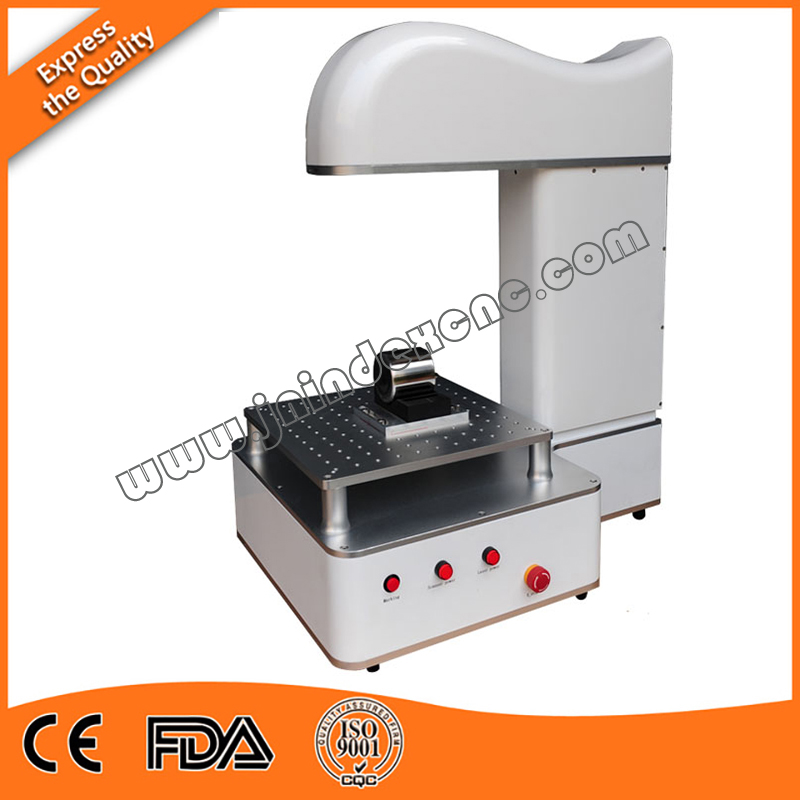 This machine is the perfect choice for a portable cutting and engraving machine. Check it out to see if it fits your needs!
Just some of the features:
-Imported Germany IPG generator and Beiljing Century Sunny Galvo, making it useful for flat or curved materials
-Total-enclosed structure with maintenance –free laser
-Compact design and installation of the three-axis laser scanning system makes the machine run better and longer
What's the 3D curved surface laser marking process?
Three-axis control

Enter three-axis control technology (see Figure 1) introduced by Keyence Corp. in its ML-Z CO2 and MD-V YVO4 series laser markers. This technology takes existing x/y galvo mirror configurations and applies it to the z-axis. The laser expansion lens, which normally remains fixed at the output point of the laser tube, is placed on a sliding electronic galvo that moves the lens closer or further from the laser output. As the expander moves closer to the laser output, the focal point of the laser does as well. In essence, this creates a z-axis field in which the laser is free to mark any surface that appears within ±21mm of the original focal distance. This added flexibility enables these units to mark a host of previously untouchable surfaces, such as cylinders, spheres, inclined planes, and multi-tiered components, all without a loss in accuracy or speed.
What's the advantage of curved surface laser marking machine?
The benefits of this breakthrough were quickly apparent to one manufacturer of multi-tiered electronic interfacing devices. Many of this company's components required marking of two tiers that could be separated by 20–30mm.
Figure 2. a) Standard 2D marking on targets of different heights causes fading and errors in character size. Internally adjusting the focus point to match each height eliminates this problem. b) Marking on curved surfaces typically results in stretched and distorted characters near the edges of the mark. 3-axis control technology can track the surface of the part to ensure clear, crisp characters.
Figure 3. Uniform marking quality achieved with the laser matched or exceeded that of the inkjet marks.Click here to enlarge image
What's the application of curved surface laser marking machine?
For a variety of shapes carved, the three-axis control can be achieved freedom control of focus, undifferentiated marking in variety of steps and uneven surfaces
A greater range marking. Under the premise of standard marking range, z-axis can achieve variable focal length of 40mm marking range, Z-axis can achieve variable focal length of 40mm marking.
High precision marking. The three-axis scanning system can arbitrarily adjust the focus of the traditional fixed-focus laser marking machine, eliminate the range deformation and spot deviations from the characteristics of traditional F lens.
More suitable for deep engraving. The dynamic marking is able to automatically adjust the focus in the process of engraving, deeper marking depth through marking on the machined surface with continuously highest energy density.
Application Industry
Laser Marking Machine widely used in Electronic Component, Instrument and meters, Hardware, Food and beverage, Jeweler, Keyboard, Package, Cell Phone Case, etc
Application Materials
Metal and Alloy: Stainless steel, Aluminum, Steel, Copper, Chrome, Anodized Aluminum, Silicon Wafer etc.
Nonmetals: Plastic, ABS, Nylon etc.
Functions
Engraving and Marking logos, texts, photos, images, 2d code, serial code, serial numbers without consumables. Those marks are permanent.
No1.Advantages of the 3D laser marking machine :
1.A larger range and finer light effects.
3D marking using pre-focused optical mode, the use of larger X, Y-axis deflection lens, which can allow the transmission of laser light spot larger, better focusing accuracy, energy better; if 3D marking with 2D marking in The same focus precision work, the marking range can be greater.
2.You can mark a different height of the object, variable focal length changes more.
As the 3D marking can quickly change the laser focal length and laser beam position, so the previous 2D can not achieve the surface marking possible. After using 3D, a certain degree of curvature within the cylinder marking can be completed, greatly improving the processing efficiency. Moreover, in real life, many parts of the surface shape is not regular, and some parts of the surface height difference is quite large, for 2D marking processing is really powerless, and this time, the advantages of 3D marking will become more obvious.
3. More suitable for deep carving.
Traditional 2D marking on the surface of the deep shadow of the existing defects, with the carving process of laser focus on the move, the role of the actual surface of the laser energy will be a sharp decline, seriously affecting the effect and efficiency of deep carving.
For the traditional deep carving practice is the electric way in the carving process at regular intervals to move the lift to a certain height to ensure that the laser surface is well focused. 3D marking for deep processing, there is no such problem, both to ensure the effect, but also improve the efficiency, while
Eliminating the cost of electric lift.
4.In the same plane, you can achieve playing black and white, and even multi-color marking, the effect is more abundant. For normal metal surfaces, such as anodized aluminum, the use of higher frequency pulses, usually under suitable energy, is marked in a certain out-of-focus condition, which significantly affects the energy distribution of the laser on the surface of the material and Color effect. For the general 2D marking users, even without the need for surface marking and other advanced features, 3D marking machine for multi-grayscale multi-color effect of the plane processing is also very meaningful.
No2.Technical parameters:
Laser Source

Germany IPG (Domestic Raycus,CAS,MAX,SUPER

for optional)

Laser power

30W (100w 30w 50w for optional)

Max Marking Speed

300characters/s, height of character 1mm

Graphic Format Supported

PLT,BMP,JPG,PNG,TIP,PCX,TGA,ICO,DXF

Power Stability(8h)

<±1%RPM

Pulse Repeat Frequency

20-60KHZ

Whole Machine Power

<800W

Mini Line Width

50um

Mini Character

1mm

Laser Wavelength

1064mm

Working area

110*110mm(optional150*150mm/200*200mm/300*300mm)

Cooling Way

Air cooling

Working Voltage

220V±10%/50HZ

Working Temperature

5°C-35°C

Weight

40KG

Package Dimension

42*32*80cm

Package

Strong veneer case
No3.Machine Main Parts Photos: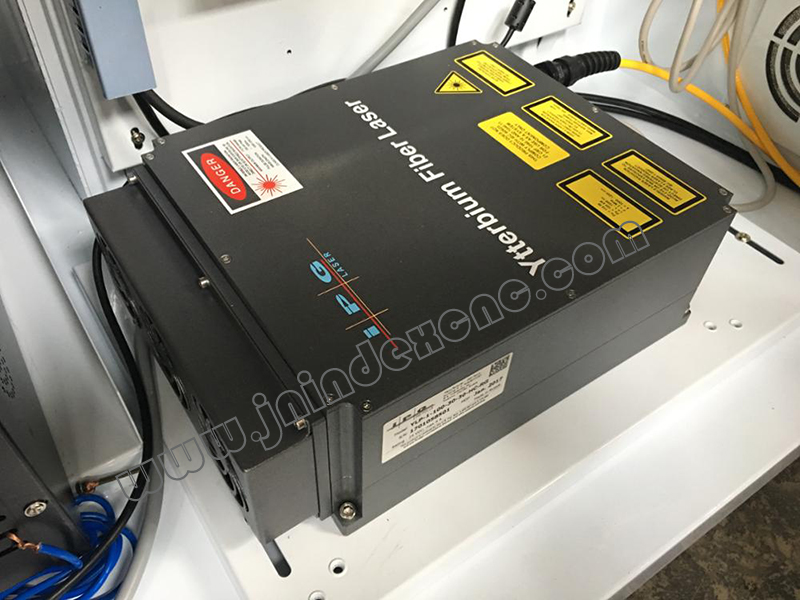 No4.Samples from fiber laser marking machine
Laser marking photo on aluminum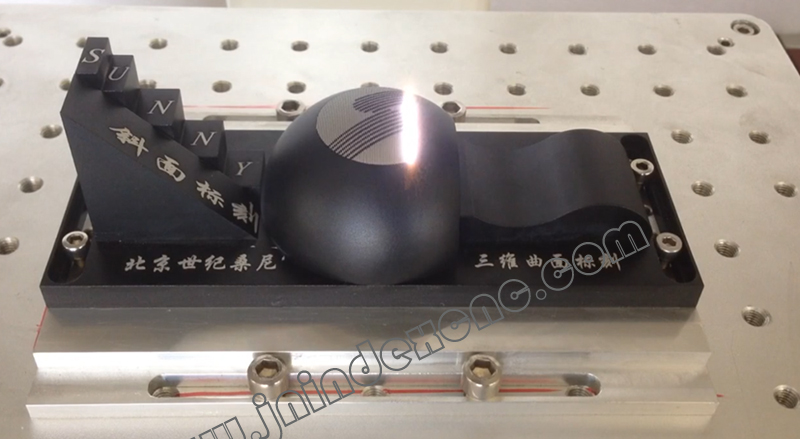 No5.After-sale service:
1. Warranty
Two years warranty for whole machine.
2. Technical support
Lifelong technical support online or by email and 18 hours online service to help you use our machine well.
3. Oversea service
Offer oversea service for training,installing, operating if necessary (Buyer need offer food & accommodation, round tickets and engineer charges USD200/day)
4. Tranining service
Offer training at our factory for free (you could visit us and learn)
Contact Karen Wang